Flower Arrangements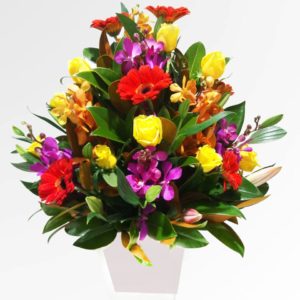 Flower Arrangements in Faridabad
Gorgeous Flower Arrangements at Vishal Furnishings
Flower arrangements are a part of furnishing your home and brightening the mood of the entire house. Decorative flower arrangements from Faridabad are available at Vishal Furnishings such that you can choose the arrangements based on your needs.
Make your home beautiful with flower arrangements in Faridabad from Vishal Furnishings
We provide you with flower arrangements that will enliven your house and remain beautiful irrespective of the time. With these realistic-looking decorative flower arrangements from Faridabad, you can ensure that your house looks fresh and inviting at all times. These arrangements can be of varying sizes, with numerous flowers. They can be arranged in different types of baskets or vases based on the room that you would like to place it in.
Vishal Furnishings has been a name to reckon with in the Home Furnishings Industry. We had been established as a firm specializing in mattresses, but over time we have become an established name in the Home Furnishings field.
We help you in picking choices that are in sync with your style and with the theme of your house.
We have over 10000 products in our showroom from various top brands for you to browse through and select. Just step into our Faridabad showroom, and you will find all your Home décor needs to be fulfilled.